Five GLOs were founded on December 10. The theme of the foundings is a common one in the history of Greek-letter organizations, "let's create a society of our own."
The University of Virginia was the founding campus of the oldest of the groups founded on December 10. The year was 1869 and five young men, the "Five Friends and Brothers," met in 46 East Lawn. The organization they founded is Kappa Sigma. Its founders are William Grigsby McCormick, George Miles Arnold, John Covert Bord, Edmund Law Rogers, Jr., and Frank Courtney Nicodemus. The growth of Kappa Sigma is credited to Stephen Alonzo Jackson, an 1872 initiate. A Kappa Sigma national officer, Dr. Charles Richardson, a Fayetteville, Arkansas dentist, greatly influenced the world of women's Greek-letter organizations when he helped found Chi Omega. With his guidance, Chi Omega was founded on April 5, 1895 at the University of Arkansas by Ina May Boles, Jean Vincenheller, Jobelle Holcombe, and Alice Simonds. He was known as "Sis Doc" to generations of Chi Omegas. The watch fob he was apt to wear had a Kappa Sigma badge on one side and a miniature Chi Omega badge on the other. The fob was not located after his death. 
On December 10, 1899, Delta Sigma Phi was founded at the City College of New York. It was formed because a group of friends tried to join an established fraternity. The friends were Christian and Jewish. They organized a fraternity of their own on December 10, 1899. The chapter was called Insula due to its location in the island of Manhattan. In late 1902, incorporation papers were signed in the name of Delta Sigma Phi. Basketball coach and author Clair F. Bee, while at Waynesburg College (now University) in Waynesburg, Pennsylvania, became a member of Delta Sigma Phi. He still holds the the Division I NCAA record for highest winning percentage, winning 82.6% of the games he was head coach. In the 1950s, he started writing the Chip Hilton sports series of young reader books.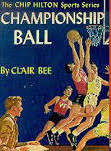 Pi Kappa Phi was founded at the College of Charleston in 1904. Its roots can be traced to a short-lived organization, Nu Phi, founded in part to help a group of men who were disillusioned with the role of college's fraternities in campus politics. The Nu Phis sought to gain control of the Chrestomathic Literary Society. Nu Phi's name stood for "non-fraternity." When some of the Nu Phi's proved disloyal, the men formed Pi Kappa Phi. Its founders are Andrew Kroeg, Simon Fogarty and Harry Mixson. The Ability Experience is Pi Kappa Phi's own philanthropy. Chapters are encouraged to take part in activities serving and benefiting people with disabilities. These events include the Journey of Hope, a 4,100 mile bike ride across the country. Thomas Wolfe, author of Look Homeward Angel, was among the first alumni to be name to the Pi Kappa Phi Hall of Fame.

Lambda Alpha Upsilon was founded at SUNY Buffalo on December 10, 1985 when 16 founding fathers came together to form an organization to provide support, both social and cultural, to Latino students. The organization's founders are Antonio Adorno, José Betances, Miguel Buitrago, Manuel Cáceres, José Chiu, Ronald Ellín, Daniel Figueroa III, Victor Gutiérrez, Justo León, Julio Martínez Jr., José Núñez, Antonio Rodríguez, Daryl Salas, Manny Sánchez, José Soto, and Simón Vélez.
On December 10, 1998, a sorority for South Asian women, Sigma Sigma Rho, was founded at St. John's University in the borough of Queens, New York. Sisterhood, Society, and Remembrance are cornerstones of the organization. The founders are Tejal Kundaiker, Payal (Suchdev) Walsh, Rinku (Suchdeva) Thomas, Priya Sahani Sood,. Vandana Kakwani-Pathak, Sonia (Sharma) Wadhwa, Dr. Nisha (Rana) Diler, Minna John, Dr. Lovleen (Kandhari) Sharma, and Mrs. Eshna (Firoz) Kalam.
© Fran Becque, www.fraternityhistory.com, 2016. All rights reserved. If  you enjoyed this post, please sign up for updates. Also follow me on twitter @GLOHistory and Pinterest www.pinterest.com/glohistory/ or on Facebook https://www.facebook.com/groups/378663535503786/